Solawest through its breeding station, continuously creates new crossing to achieve future new varieties.
This season we are launching Anissa and Louna.
Anissa is a yellow flesh variety, with yellow flesh and skin. It has shown very nice results in Greece, Spain and Slovenia. The keeping is very good and the frying colour remains clear whatever the storage time or temperature. It has a good tolerance to drought. It is medium to late early and has a dry matter of 20%
Louna is also a yellow flesh variety. It has shown very good results in Greece and Italy, with e high proportion of big tubers and a very big yield. It is a AB group variety, very similar to Monalisa. The skin finish is umbelievable, with very shallow eyes. The keeping is excellent. The dry matter is 18 to 19%.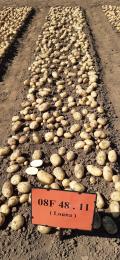 We will introduce them to our partners during Potato Europe 2021 in the Netherland.
See you there !